Bathroom Remodeling Experts Northern Atlanta and The Surrounding Areas
The Trusted Toolbox's remodeling team is a full-service remodeling company specializing in bathroom remodeling services for homeowners in Marietta, Roswell, Alpharetta, and other cities in Georgia. Our bathroom expertise includes powder rooms, master bathrooms, spa baths, and guest bathrooms and showers. Our team provides full-service bathroom design and renovation services, from conceptual bathroom design through the completion of the project.
Our goal is to work with every client to craft a custom, one-of-a-kind bathroom design that fits their needs and style. We can help you make budget decisions to smartly spend your money where it matters most and to help choose products that are not out of your price range.
Envisioning Your New Bathroom
Whether you already have plans or need help deciding on your new bathroom concept, our team at The Trusted Toolbox can help. We have years of on-the-job experience helping homeowners in the northern Atlanta area design their perfect bathroom.
Redesigning a bathroom can be one of the most rewarding remodeling jobs you can tackle in your home. Not only will it create a space just for you, remodeling your bathroom can also increase the value of your home.
Our bathroom remodeling contractors will help you choose the right finishes and features to keep your bathroom timeless while serving all your needs. With our help, you won't have to worry about remodeling the bathroom a second time when it's time to move out. Let our experts help you design the perfect bathroom within your budget. Contact our team by calling 678-981-5435 or by clicking the button below to fill out our online contact form.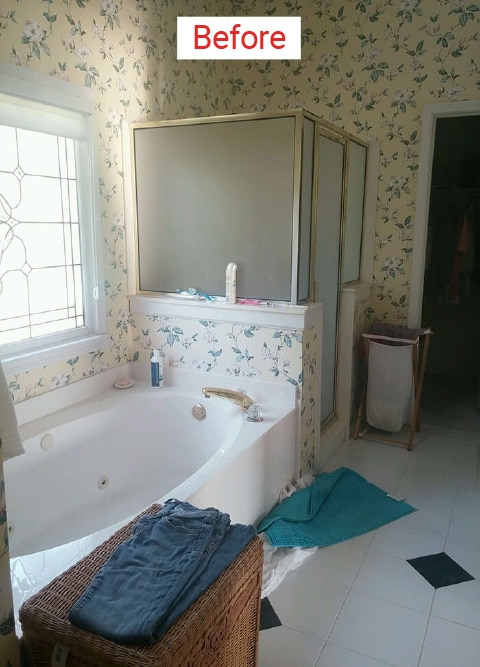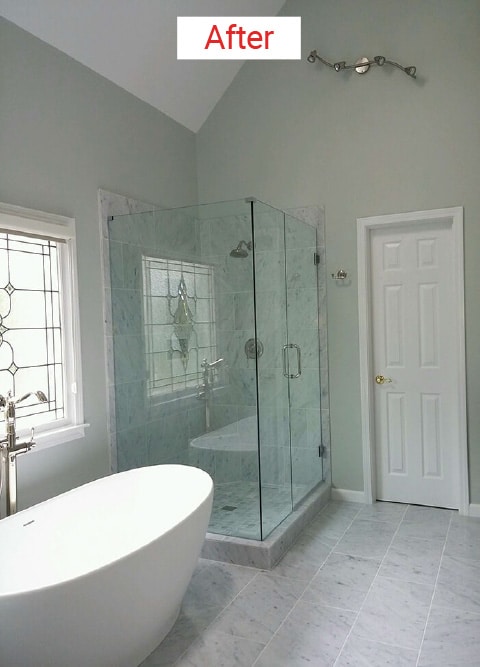 Bathroom Remodeling – A Variety of Choices to Make
When you work with our team, you can get the ideal bathroom for your home. We will evaluate your available space, discuss your budget and any specific concerns you may have, provide you with a number of ideas using pictures from our past work, and create the perfect bathroom remodel for you. Once we've got the ideas on paper, we can work with you to set up a remodeling schedule and begin construction of the bathroom.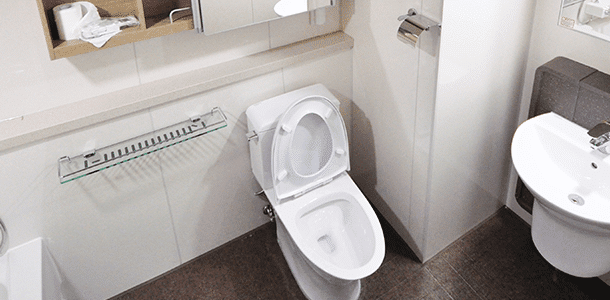 While the toilet is possibly one of the most functional items in the bathroom, it is often underappreciated and people tend to not replace their toilets during a remodel. If you are wanting to add a better toilet or one that complements the new look, there are a huge number of different styles available and different flushing options to reduce water usage. Whether you want a single-flush, a double-flush, or a touchless flush, we can help you find the right model to fit your bathroom.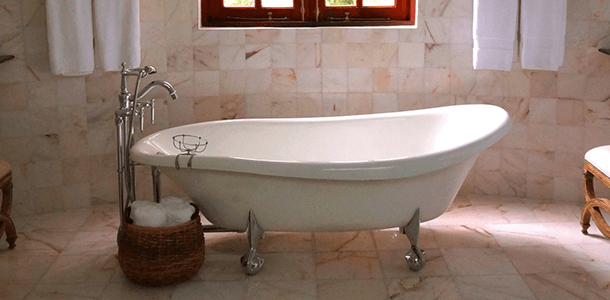 No matter what type of bathtub you currently have in your home, we can install a new replacement tub that will complement your remodeled bathroom. Whether you're looking to replace your standard tub, upgrade to a soaking or whirlpool tub, install an alcove or large corner tub, or even go with a freestanding tub, we can add any style. We can help you decide what material works best whether it is cast iron, porcelain, steel, fiberglass, acrylic, or even wood.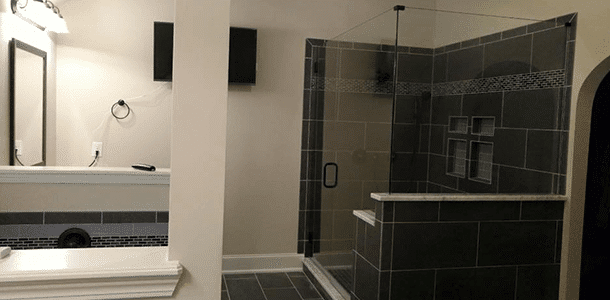 Adding a new shower or increasing the size of your current shower can have a huge impact on the entire bathroom. We can work with your space to help add a walk in shower or remodel an existing shower stall, big or small. When upgrading the shower with tile or changing to a glass-enclosed unit, our team can provide the best options to make the new shower fit in with the overall look and feel of the remodeled space.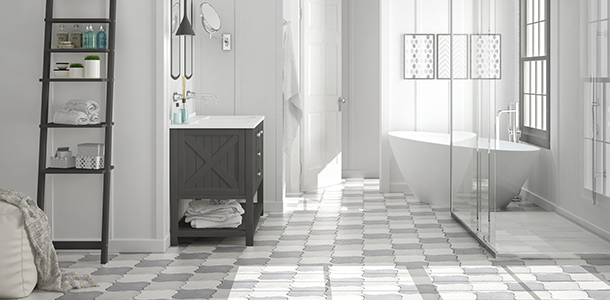 One of the most popular trends when remodeling a bathroom is adding new flooring and wall decor. For some, this means adding complementary tile along the walls and floor. For others, a combination of tile flooring and painted or paneled walls work best. No matter what type of theme you want, our team can work with you to provide a number of flooring and wall decorating ideas to get the most our of your bathroom.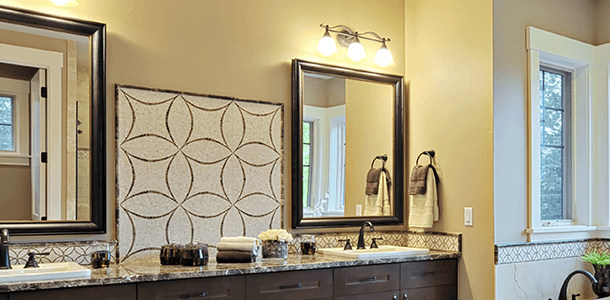 Bathroom fixtures are a blanket term for many items in the bathroom but here we are referring to mirrors, lighting, and decor items. When you are adding a new shower or bathtub, it is important that the decorative items such as the towel racks, shelving, and lighting, all complement each other and improve the space. We can provide a variety of options and ideas to ensure everything in the bathroom is tied in together.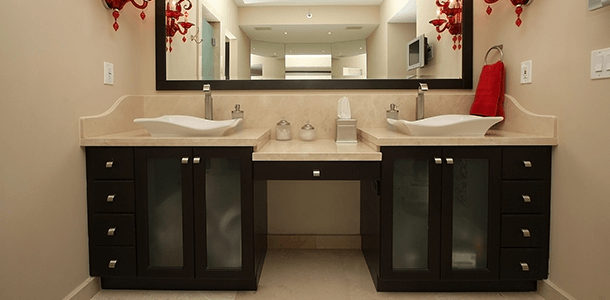 The bathtub or shower do not always need to be the focal point of a bathroom. A freestanding vanity can be a very attractive option, especially when you are going for a specific theme such as a modernized or rustic feel. A vanity can have one or two sinks, have contained storage, and are installed flush against the wall. They will typically have detached mirrors and can range from thin options, 21″, all the way to very wide options, 80″ or more.
After you have a new shower or a second sink, it is a good idea to upgrade your shower heads and faucets to make use of the extra space and improve the overall look of the bathroom. There are a number of different types of shower heads including ceiling mounted, handheld, multi-function, and rain heads, choosing the right one can make all the difference in a remodel. While there are not many varieties of faucets, choosing one that fits the decor of the room will make a huge difference.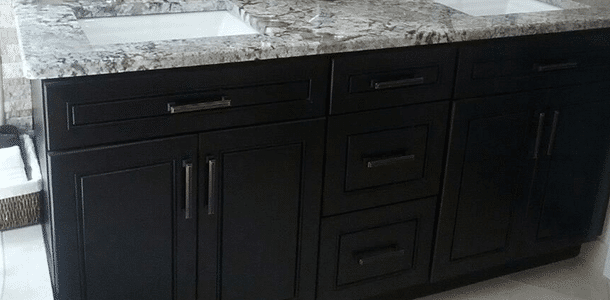 Often times, the bathroom cabinets are overlooked during a remodel. Whether you want them under the sink as part of a vanity or stand alone in a corner, choosing the right cabinets can help add much needed storage space in the new bathroom. Corner units can make use of unused space while wall hanging units either above the toilet or next to the mirror can help add decoration as well as storage. No matter what you're wanting, we can help choose the best options for your space.
What Our Customers Say About Us
This is the second time we've had The Trusted Toolbox do projects in our home. They are prompt, work hard, clean up after themselves and are very good at what they do. Greg did an excellent job of supervising and planning everything and then taking care of any problem we had. No questions…
Denise P.
Just finished having our master bath remodeled by the Trusted Toolbox. This is a great group to work with when doing a project. All the folks are professional, courteous and willing to answer your questions. Tim did a good job on the estimate, Randy was a wonderful project manager and Bryan was…
Bill S.
Contact a Reliable Bathroom Remodeling Contractor
If you are looking for bathroom remodeling services in the Northern Atlanta area, contact our experts at the Trusted Toolbox. We provide expert bathroom remodeling design consultation and contracting services for bathrooms of all sizes. You can schedule a design consultation or ask our experts questions about bathroom remodeling by calling
(678) 981-5435
or by filling out our
online contact
form.