Quality Deck Resurfacing in North Atlanta
As a homeowner in the North Atlanta area, you know your deck is a valuable addition to your property. It provides a comfortable outdoor space to relax, entertain guests, and enjoy the beautiful weather. However, over time, your deck can become worn out, faded, and damaged due to exposure to the elements. That's where our deck resurfacing services come in.
Our team of experts at The Trusted Toolbox uses top-of-the-line materials and equipment to provide high-quality deck resurfacing services. We'll start by inspecting your existing deck to decide our next steps. If you have a wood deck, we may recommend our deck rebuilding services if the support joists aren't up to par. Our team will remove the walked-on wooden deck boards and replace them with durable composite decking materials.
With our deck reskinning services, you can transform your old, worn-out deck into a stunning outdoor oasis that you and your family will love. Whether you want to update the look of your deck, fix any damage, or give it a facelift, we can help. Our experienced team at The Trusted Toolbox will work with you to understand your needs and goals and provide customized solutions that meet your budget and exceed your expectations. So, don't wait any longer to improve your outdoor living space. Contact The Trusted Toolbox today to schedule an appointment and get started on your deck resurfacing project in the North Atlanta area.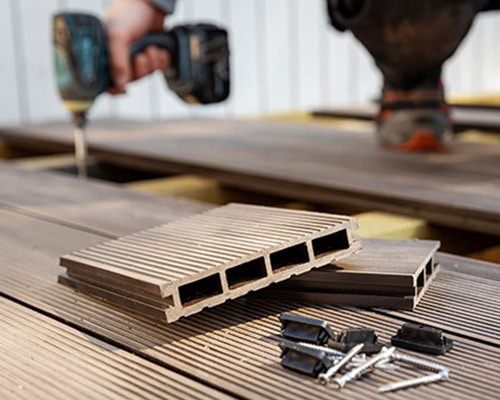 Benefits of Deck Reskinning
A Cost-Effective update to your deck is replacing the surface and railing for longer lasting and durable materials:

It enhances the aesthetic appeal of your deck, giving it a fresh, new look. This is especially important for homeowners looking to sell their homes, as it can significantly increase their property value.
Deck reskinning can repair any damage to your deck, preventing further deterioration and avoiding costly repairs down the line.
Resurfacing can extend the lifespan of your deck by protecting it from the elements and regular wear and tear.
Additionally, resurfacing can enhance the functionality of your deck, making it a safer and more enjoyable space for your family and guests. So, whether you want to upgrade your deck's appearance, fix any damage, or improve its functionality, call The Trusted Toolbox for deck resurfacing in the North Atlanta area.
Contact Us for Deck Resurfacing in North Atlanta
If you're a homeowner in the North Atlanta area and want to enhance your deck's appearance and functionality, look no further than The Trusted Toolbox! Our team of experts offers top-quality deck resurfacing services designed to meet your specific needs and exceed your expectations. With years of experience in the industry, we understand the unique challenges that decks in North Atlanta face due to weather and environmental factors. We'll work with you to understand your goals, provide customized solutions, and deliver exceptional results you'll love for years. Please schedule a consultation by filling out our online contact form or calling us at 770-623-3097.