Professional Deck Construction in North Atlanta
At The Trusted Toolbox, we understand the importance of having a functional and beautiful outdoor living space. That's why we offer top-notch deck-building services to homeowners in the North Atlanta area who want to enhance their homes with a custom-built deck. Whether you want to add value to your property, increase your living space, or enjoy the great outdoors, our skilled professionals will work with you to design and construct the deck of your dreams.
Your backyard should be a place you can sit back and relax, and a new deck is a perfect way to create a space to do so. A brand-new deck can enhance your home in many ways, extending your living space to the outdoors and creating a beautiful place to entertain guests. At The Trusted Toolbox, we have been helping Atlanta area homeowners transform their outdoor spaces for years.
We use only the highest quality materials and take pride in our craftsmanship, ensuring your deck is aesthetically pleasing and built to last. Our team will work closely with you throughout the entire process, from initial consultation to final installation, to ensure that your deck meets your exact specifications and exceeds your expectations. So why wait? Contact us today to schedule a consultation and start enjoying your new deck in no time.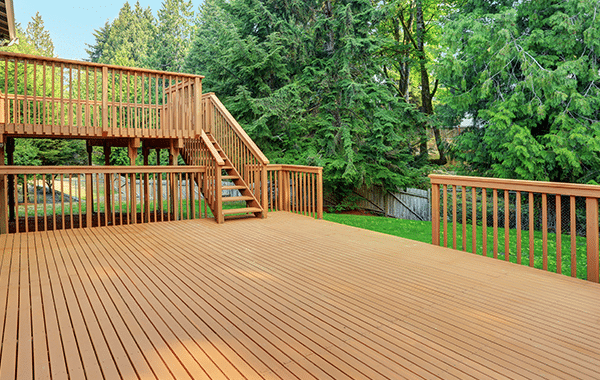 High-Quality Deck Building
A beautiful deck is pretty hard to beat when creating an ideal outdoor space for entertaining guests or relaxing with family. Yet, we all know north metro Atlanta has our fair share of steep hillsides. That's why our team uses composite decking materials. Having built high-quality, elevated decks on hilly terrain for years, we're experts at overcoming safety and structural issues.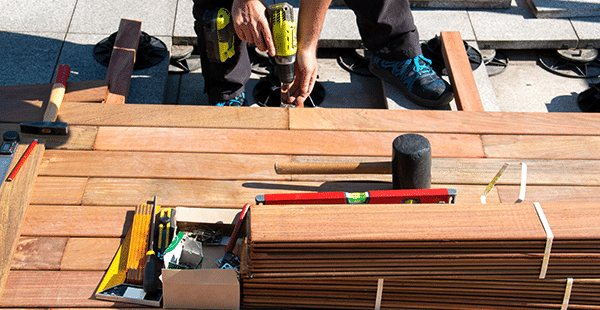 Composite decking material is highly durable and can withstand harsh weather conditions, which makes it perfect for outdoor use. Unlike wood, it is resistant to rot, warping, and insect damage and does not require staining or sealing, saving you time and money on maintenance.
Additionally, composite decking is eco-friendly, typically made from recycled materials such as plastic and wood fibers. This makes it a sustainable choice that is also easy to clean and maintain, as it is resistant to mold, mildew, and stains. Lastly, composite decking is available in various colors and textures, allowing homeowners to customize their outdoor living space and create a unique look that suits their style and aesthetic preferences.
These decks add beauty to any home and are easy to maintain, safe, and durable. While they may require some cleaning and maintenance, it is far less than most natural decking materials. They are also more environmentally friendly because they typically use recycled materials instead of natural wood. We offer a wide range of natural color choices to match your home's exterior.
Deck rebuilding and deck resurfacing are two popular services our skilled handymen at The Trusted Toolbox offer homeowners in North Atlanta. Deck rebuilding involves tearing down an old, worn-out deck and replacing it with a new one. This is a good option for homeowners who want a completely fresh start and the ability to customize the design and layout of their new deck. Our team can work with you to create a custom design that fits your needs and budget.
Deck resurfacing, on the other hand, involves updating the look of an existing deck by replacing the surface boards and railings. This is more affordable than rebuilding and can give your deck a brand-new look without the expense and time involved in a full replacement. If your wooden deck needs some TLC, consider our deck maintenance services.
We can repair and install decks and provide maintenance and repair services to keep your deck in shape. It's best to leave this kind of work to the professionals because we know how to reseal, stain, and finish wooden decking materials properly. Decks are usually made of wood, which can be tricky to take care of if you're not experienced, but we can help! Plus, we're equipped to provide upkeep services for decks made of vinyl or composite materials too. We'll maintain your deck regardless of the season, so it looks great throughout the year. Contact our experts to schedule a consultation for your run-down deck in the North Atlanta area.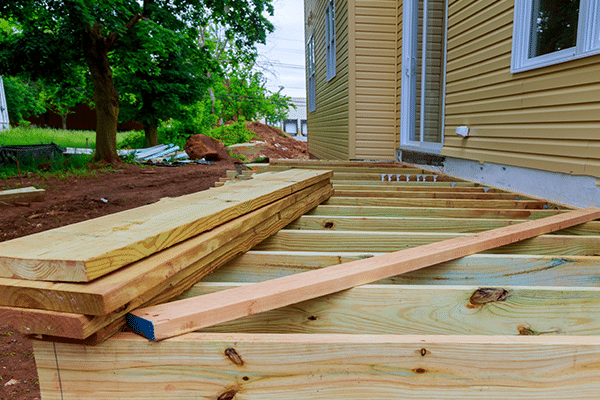 Contact Us For Deck Building in North Atlanta
Are you looking to build a beautiful new deck for your home? We've got you covered! Our experienced professionals are here to help you design and construct the perfect deck to fit your style, needs, and budget. Ready to get started? Contact us today to schedule a consultation and receive a free estimate for your project. We'll work with you every step of the way to ensure your new deck is built to your exact specifications and exceeds your expectations. Call us or fill out our online form to contact our friendly team and learn more about our deck-building services.