Kitchen Remodeling in North Atlanta
When it comes to kitchens, style and function are not always easy to achieve on a tight time frame or budget. Our team at The Trusted Toolbox can help. If you are looking to remodel your kitchen, choosing the right contractor can be the difference between a project completed on time and budget and a full-blown disaster.
Our expert kitchen remodeling contractors specialize in working with clients to create kitchens that are both stylish and functional. We have completed kitchen remodeling projects for homeowners across the north Atlanta metro area and have worked with every type of construction material.
Our kitchen remodeling team specializes in crafting one of a kind stylish and functional kitchens. We work one-on-one with clients to help determine each aspect of a kitchen remodel. This can include choosing cabinets, appliances, tile, flooring, and layout. We also understand that as a homeowner, you may have a set budget and time frame you are looking stay within. Our team can help put together a plan to keep you on time and on budget.
Get started on your kitchen remodeling project today by contacting our experts.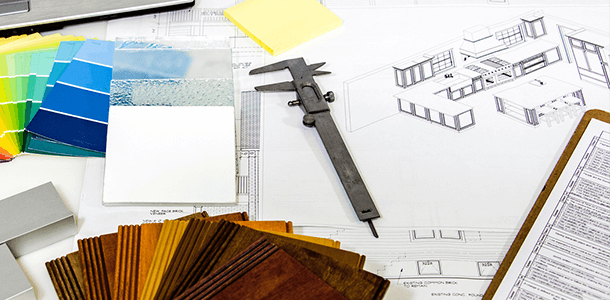 We will work with you to design the ideal kitchen for your home. We will walk you through every different type of product available, explain to you why certain materials or designs will work better or worse for your space, and come up with the perfect finished product design. We will then give you a schedule and a plan to ensure we remodel your kitchen professionally and within the desired budget and timeframe.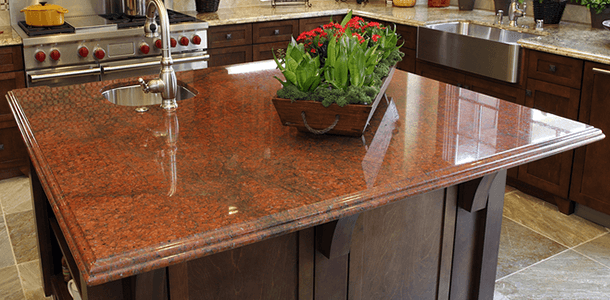 A great countertop will be the most noticeable change to your kitchen as it takes up the most space. There are many different countertop options and our team will work with you to provide ideas that are within your budget and match what you're looking for. Whether you're looking for marble, granite, or quartz stone countertops or even wood, concrete, or steel, we can find you the ideal material and style to complete your kitchen.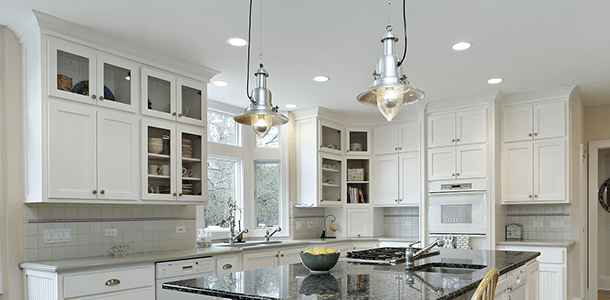 New kitchen cabinets are something everyone wants when they do a remodel. This could mean adding all new cabinets, replacing the doors, updating the colors with a fresh coat of paint, or even just changing up the hardware. No matter how we do it, it is important to maximize the budget to get you the best new cabinets for your money while also installing cabinets that complement your new kitchen style.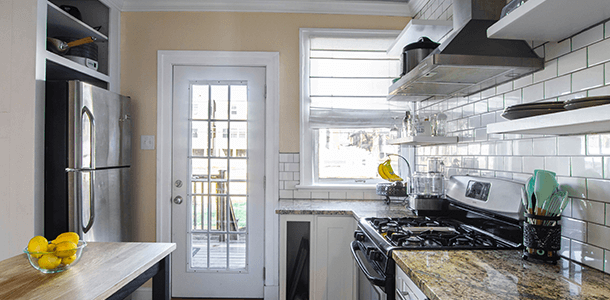 New appliances are going to add the most noticeable characteristics to your remodeled kitchen. Depending on the style and finish of your new appliances, your home can take on a modern look with stainless steel or slate, or warmer looks with colored finishes. A new appliance package will also help expand your cooking areas with an updated cooktop and storage areas with a more modern refrigerator. We can help you decide on the best new appliances and recommend brands to fit the style that fits your new space.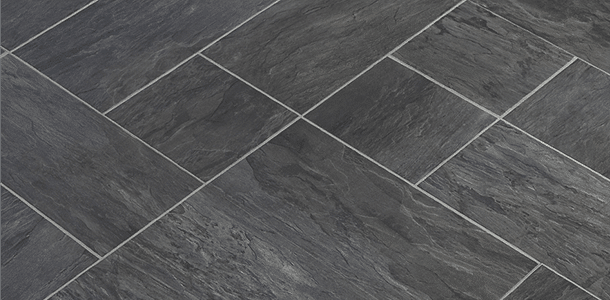 The kitchen floor needs to be both comfortable and functional while matching and complementing the rest of the kitchen. Deciding which material to use will depend on many things including the style you're looking for as well as how it will fit into your kitchen. Some of the most popular options include porcelain and ceramic tiles, engineered hardwood, cork, laminate, and even vinyl. No matter what material you want to use, we will find the best one to match your kitchen.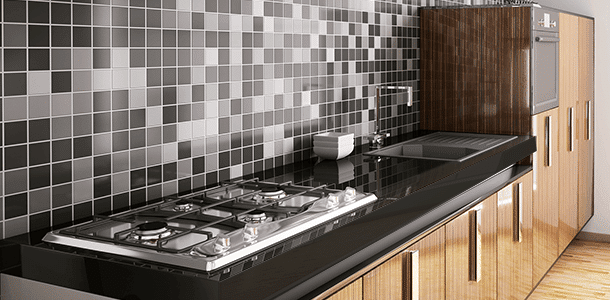 A unique tile backsplash is something that can add contrast and character to any kitchen. There are hundreds of different options to complement everything from the flooring, the appliances, the countertop, and even the sink and faucet. Our team can help narrow down the options and find the ideal style and material that will look best in your kitchen.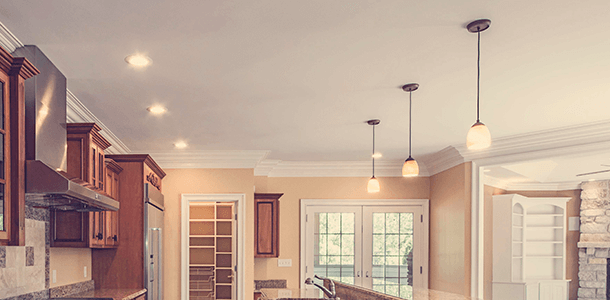 When updating the kitchen, it is important that we do not neglect the opportunity to add new lighting to the space. This could mean changing the layout of the lights to create a new atmosphere, updating to something modern or even LED lighting everywhere, installing flush mount lights to showcase certain areas, or adding a variety of new ceiling light fixtures. We can work with you to design the best new lighting layout for your area.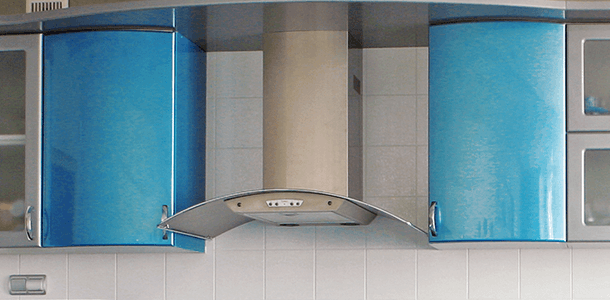 There are many different types of kitchen ventilation systems. Whether you want to install a large exhaust hood mounted on the wall or ceiling, or a concealed wall or ceiling mounted fan, it is important that it serves the function of removing smoke and odors from the kitchen. These fans and systems come in a variety of styles, designs, and mounting locations to fit the locations of your appliances.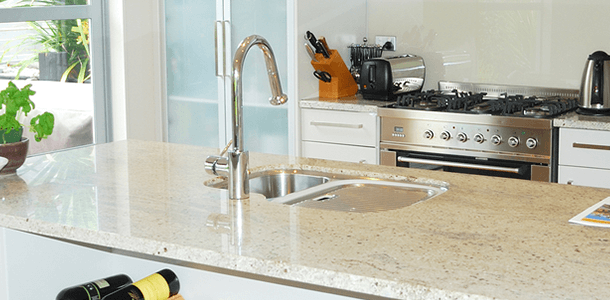 The sink is another big focal point of every kitchen and it is important to find one that both serves a purpose and complements your new space. Whether you're looking for a large farmhouse sink, a double well, or even triple well sink, we can find one that is both functional and looks great. When adding a faucet you also want it to match the space, the sink, and the style or theme of the new kitchen. With options from every brand, we can help track down the best faucet.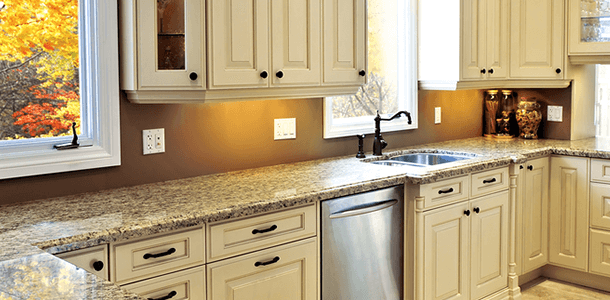 An often overlooked design element in kitchens is new paint. Many times people want the appliances, cabinets, and countertops to add all the color but the perfect complementing paint job can completely change the atmosphere and character of the kitchen. When our design team is looking at the big picture of all the materials and colors for the kitchen remodel, we can find colors that will complement everything.
Contact Our Kitchen Remodeling Experts In Georgia
If you are looking to remodel your kitchen our team can help. Our expert bathroom remodeling team can help you create a custom kitchen that suits your needs. Contact our experts to start the conversation by filling out our online contact form or by calling us at (678) 981-5435.
Leaking Bathroom Repair in Smyrna, GA
I had a bathroom on the top floor that was leaking through the kitchen below (there was a big hole on the kitchen ceiling due to the leak), I called in trustedtoolbox for an estimate, It was very reasonable, the technician GREG came on time, the workmanship was flawless, I was amazed, he fixed the …
Bathroom Remodeling in Scottdale, GA
Sean tiled two bathrooms including showers. Work was professionally completed and on time. I have no trouble using TT for any future projects. 
Bathtub Replacement in Marietta, GA
The Trusted Toolbox did an excellent job replacing my bathtub. I would recommend them to anyone.