Master Bathroom Remodeling In North Atlanta
Bathrooms are among the most complex rooms to renovate in your home, so you shouldn't leave them completely to chance by attempting a DIY. You can't go wrong with the pros at The Trusted Toolbox. Our team specializes in bathroom remodels for North Metro Atlanta Area homeowners. Bathroom remodeling and renovations are the best way to improve property value and give your home a fresh look. Many homes built between the 1960s and 1980s still have outdated bathrooms that don't meet the expectations of modern homeowners.
Today's homeowners are concerned about selecting new bathroom countertops, flooring, and low-maintenance fixtures built to withstand daily use and excess moisture. If space is at a premium in your master or guest bathroom, consider adding an elegant pedestal sink or a vanity with hidden storage compartments to make the organization of your toiletries sleek and convenient. Have you always wanted your bathroom to feel more open and less dingy? Consider adding windows or skylights to make it airy, bright, and inviting.
You may not be worried about bathroom design. If rising utility bills make you anxious, consider updating your master bathroom with energy-efficient features, like a tankless water heater, radiant floor heating, low-flow toilet, faucets, or modern LED lighting. Our team at The Trusted Toolbox has years of experience working with homeowners to refresh and modernize their bathrooms. Our team is equipped to handle every remodeling aspect, from bathroom design to bathroom renovation. Contact our experts at The Trusted Toolbox if you have questions about where to start with your bathroom remodeling project.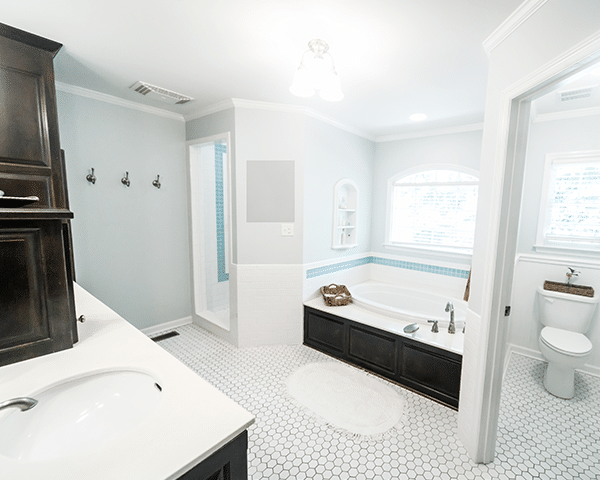 How To Remodel Your Main Bathroom
There is no doubt that remodeling your primary bathroom is beneficial to your home. Because of the project's difficulty and the room's importance, this kind of renovation is best left to a professional. Lucky for you, The Trusted Toolbox offers expert bathroom remodeling and repair services to homeowners in Northern Atlanta and surrounding areas. Our team can help you with any number of projects regarding bathroom remodeling. These include major projects, like complete renovations, or minor tasks, like the professional installation of bathroom fixtures. Our main bathroom remodeling services include: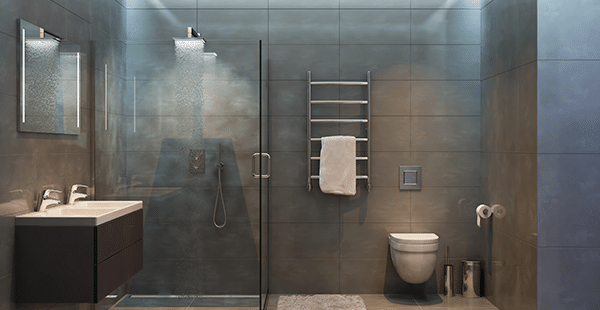 New tub installation
New shower design and installation
New wall and floor tiles
New vanities, cabinets, countertops, mirrors
New lighting and fixtures
Handicap accessible modifications
New toilet installation
Toilet repair
Shower repair
Whether you want to install a new sink, double vanity, a glass shower door or install new tile in your shower, we can help. Our bathroom remodeling and bathroom repair services are a step above the competition. We offer design ideas, remodeling expertise, and trustworthy staff to help you finish your project quickly. An aesthetic upgrade is one of many benefits of a North Atlanta bathroom remodeling project. Other reasons to renovate your master bathroom include the following:
Spacing: Open up a little extra room in your bathroom to make mornings much easier.
Value: This is a common way to add equity to your home, even if you aren't planning to sell.
Mobility: Make life easier for those with mobility issues by installing chairs, handheld shower heads, grab rails, and other items.
Technology: Many advancements in technology have happened since your home was built. When you remodel, you can add rain showers, heated floors, wall-mounted TVs, jetted tubs, and much more.
Improvements: If there is a certain thing that you've never liked about your bathroom, now is the time to fix it.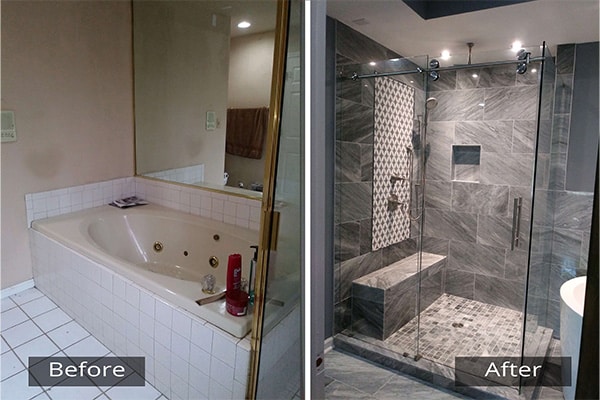 You are going to love having a modern bathroom that is clean, fresh, and much easier to use. We can install gorgeous new cabinets, countertops, floor, and wall tiles, and a new sink, bathtub, or shower. Don't forget – we can also do handicap-accessible modifications to help family members with mobility problems. We work with homeowners on full-bathroom remodels, master bathroom remodels, and half-bathroom remodeling projects. If you would like to discuss a home remodel, don't hesitate to contact the Trusted Toolbox today to schedule an appointment for a consultation.
Contact Us for Bathroom Remodeling in North Atlanta
The Trusted Toolbox offers expert remodeling and repair services to homeowners in Northern Atlanta and surrounding areas. No job is too big or small for our team. If you want to discuss a bathroom remodeling project, contact our experts at The Trusted Toolbox today by filling out our online contact form or calling us at 770-623-3097.