Professional Deck Rebuilding in North Atlanta
At The Trusted Toolbox, we understand that your deck is important to your outdoor living space. That's why we're dedicated to providing top-quality deck-rebuilding services to enhance your deck's beauty, functionality, and safety. Whether your deck is old, damaged, or needs a makeover, our skilled professionals will work with you to create a customized solution that meets your unique needs and exceeds your expectations. Add value to your home and increase your living space with a new deck from The Trusted Toolbox.
When you choose our deck rebuilding services, you can rest assured that you're getting the best value for your money. We use only the highest-quality materials and state-of-the-art equipment to ensure that your new deck is built to last. Plus, our team of experienced professionals is committed to providing excellent customer service and will go above and beyond to ensure your complete satisfaction. So if you want to upgrade your deck and create a beautiful outdoor space that you and your family can enjoy for years to come, look no further than The Trusted Toolbox.
When do you need deck replacement?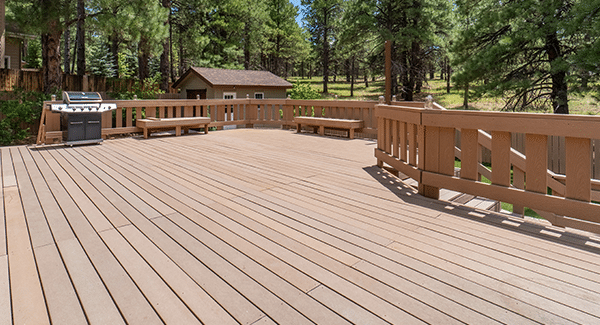 While decks are designed to withstand years of use and exposure to the elements, they require regular maintenance and repair to keep them safe and functional. If you notice signs of damage or deterioration on your deck, it's important to consider deck rebuilding services to ensure the safety of your family and guests. Signs that your deck may need rebuilding include:
Warped, cracked, or rotting boards
Loose or unstable railings
Weak or damaged support posts
If your deck shows any of these signs, it's time to call the professionals for an inspection.
Another reason to consider deck rebuilding services is if you're looking to upgrade your outdoor living space. A new deck can enhance the beauty and value of your home and provide you with the perfect place to entertain, relax, and enjoy the great outdoors. Our team of experts can help you create the deck of your dreams. So if you're ready to take your outdoor living to the next level, contact The Trusted Toolbox today to schedule a consultation and learn more about our deck-rebuilding services.
Contact Us for Deck Rebuilding in the North Atlanta Area
Don't let a worn-out or unsafe deck keep you from fully enjoying your outdoor living space. Contact us today to schedule a consultation and learn more about our deck replacement services. We'll work with you to understand your vision and goals for your new deck and provide a customized solution that fits your style, needs, and budget. Whether you're looking for a simple and functional deck or an elaborate outdoor living space with all the bells and whistles, we've got you covered. So don't wait – contact us today to get started on your deck replacement project! If you would like to discuss a deck repair, don't hesitate to contact our experts at The Trusted Toolbox today by filling out our online contact form or by calling us at 770-623-3097.