Professional Half-Bathroom Remodeling in Atlanta
Remodeling your bathroom is one of the best improvements you can make to your home in the north Atlanta area. Half-bathroom remodeling is a great way to make your half-bathroom more functional and safe. Half baths are a staple room for any home. Our team at The Trusted Toolbox has been remodeling, repairing, maintaining, creating, and designing bathrooms for homeowners in the Atlanta area for years. If you want to increase the value of your home, update a sink or toilet, or install a new tile design in your half bathroom, our team can help. 
A half bath – sometimes called a powder room or guest bath – is an important part of a home. Although they are often very small spaces, half baths can play a large role in the household. They are frequently visited by guests and family members alike. So if you're considering a half-bath renovation, you cannot afford subpar results. You can rely on our capable handymen to provide quality results with your half-bathroom remodeling project. If you dream of powder room designs with floating shelves and pedestal sinks, it might be time to take the next step with your new bathroom ideas. Here are some ways we can improve your half-bathroom:
New wall and floor tiles
New vanities and cabinets
New bathroom countertops
New mirrors and medicine cabinets
Floating shelf installation
New lighting and fixtures
Handicap accessible modifications
New toilet installation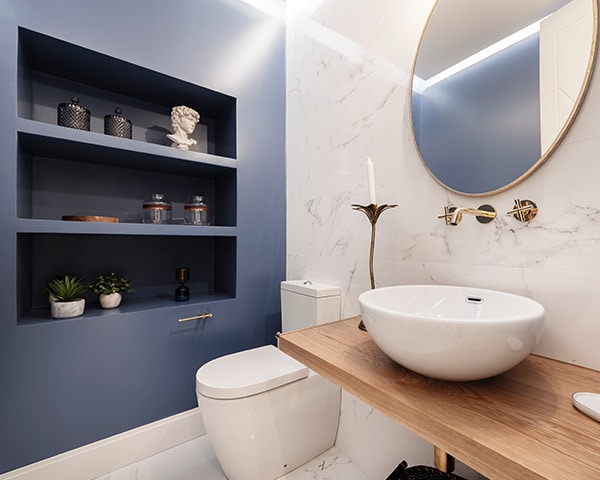 Benefits of Half Bathroom Remodeling
As small as a half bath is, it still needs to function properly as a bathroom. That means that your half bath needs ventilation, cabinets, a mirror, flooring, and a toilet and sink. While you can continue the aesthetic of your home in the half bath, they are often a place for a little design experimentation. Whatever style you choose for your half bath, it pays to have an excellent bathroom renovation company.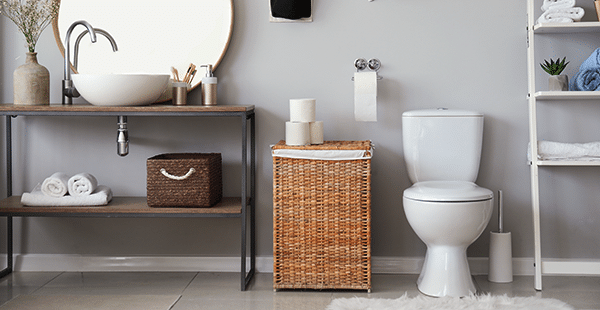 The Trusted Toolbox is your trusted partner for powder room remodeling in Atlanta. There are many benefits of bathroom remodeling. You are going to love having a modern bathroom that is clean, fresh, and much easier to use. We can install gorgeous new cabinets, countertops, floor and wall tiles, and a new sink or toilet. Other benefits of remodeling your home's powder room include:
Ease of mind, knowing your bathroom is safer.
Enhanced bathroom functionality
Having a half-bathroom that matches the style of your home
Improved bathroom efficiency
Raising the value of your home
If you would like to discuss a home remodel or half-bathroom design, don't hesitate to contact the Trusted Toolbox today to schedule an appointment for a consultation.
Contact Us for Half Bathroom Remodeling
Whether you've got a small powder room that needs modern updates or a large half-bathroom that doesn't match the rest of your home, The Trusted Toolbox can help with your half-bathroom renovation project. Our experienced handymen have the resources and experience to finish your home improvement projects quickly and correctly. If you've been looking for a reliable team to work with on your home remodeling project near Atlanta, Call the Trusted Toolbox or fill out our contact form to schedule a consultation.